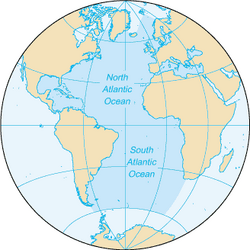 The Atlantic Ocean is the world's second largest ocean. With a total area of about 106,400,000 square kilometres (41,100,000 sq mi), it covers approximately 20 percent of the Earth's surface and about 29 percent of its water surface area. It borders Ireland on the west coast.
Bordering counties
Edit
Bordering countries and territories
Edit
The states (territories in italics) with a coastline on the Atlantic Ocean (excluding the Black, Baltic and Mediterranean Seas) are:
Azores
Belguim
Denmark
Faroe Islands
France
Germany
Guernsey
Iceland
Isle of Man
Jersey
Netherlands
Norway
Portugal
Spain
Sweden
Angola
Benin
Bouvet Island
Cameroon
Canary Islands
Cape Verde
Democratic Republic of the Congo
Equatorial Guinea
Gabon
Gambia
Ghana
Guinea
Guinea-Bissau
Ivory Coast
Liberia
Madeira
Mauritania
Morocco
Namibia
Nigeria
Republic of the Congo
Saint Helena, Ascension and Tristan da Cunha
São Tomé and Príncipe
Senegal
Sierra Leone
South Africa
Togo
Western Sahara
South AmericaEdit
Argentina
Brazil
Chile
Columbia
Falkland Islands
French Guiana
Guyana
South Georgia and the South Sandwich Islands
Suriname
Uruguay
Venezuela
CaribbeanEdit
Anguilla
Antigua and Barbuda
Aruba
Bahamas
Barbados
Bonaire
British Virgin Islands
Cayman Islands
Cuba
Curaçao
Dominica
Dominican Republic
Guadeloupe
Grenada
Haiti
Jamaica
Martinique
Montserrat
Saba
Puerto Rico
Saint Barthélemy
Saint Kitts and Nevis
Saint Lucia
Sint Maarten
Saint Martin
Saint Vincent and the Grenadines
Sint Eustatius
Trinidad and Tobago
Turks and Caicos Islands
United States Virgin Islands
Central and North America
Edit
Belize
Bermuda
Canada
Costa Rica
Greenland
Guatemala
Honduras
Mexico
Nicaragua
Panama
Saint Pierre and Miquelon
United States
Community content is available under
CC-BY-SA
unless otherwise noted.