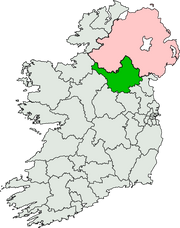 Cavan–Monaghan is a parliamentary constituency represented in Dáil Éireann, the lower house of the Irish parliament or Oireachtas. The constituency elects 5 deputies (Teachtaí Dála, commonly known as TDs). The method of election is the single transferable vote form of proportional representation (PR-STV).
History and boundaries
Edit
The constituency spans the entire area of both County Cavan and County Monaghan, taking in Cavan town, Monaghan town, Clones, Cootehill, Belturbet, Bailieborough, Castleblayney and Carrickmacross. Since its creation it has been a five seat constituency.
The constituency was created under the terms of the Electoral (Amendment) Act 1974, as part of the redistribution of constituencies, also known as the Tullymander. The constituency of Cavan–Monaghan has been used for elections since the 1977 general election. It was established to replace the two pre-existing, separate constituencies of Cavan and Monaghan. Unlike most of the other constituencies created for the first time in that year, it has survived with only minor changes since.
The Electoral (Amendment) Act 2009 defines the constituency as:
"The counties of Cavan and Monaghan."
Constituency profile
Edit
The second largest constituency after Mayo, Cavan–Monaghan is predominately rural with 75% of the population living outside the main towns. Manufacturing, construction, and agriculture are the largest sectors of the local economy, with the QUINN group being the one of largest employer in the constituency. In recent years there has been an influx of people moving to south-east Cavan from Dublin, benefiting from the low house prices and transport links to Dublin.
Due to its proximity to the border the constituency has historically been staunchly Republican, with hunger striker Kieran Doherty winning a seat in the 1981 general election as an Anti H-Block candidate. In recent elections, the constituency consists of mainly a three-way fight between Fine Gael, Sinn Féin and Fianna Fáil, with the Labour Party traditionally polling poorly.
Community content is available under
CC-BY-SA
unless otherwise noted.