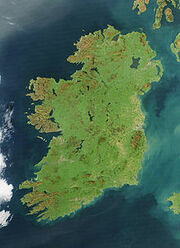 Ireland (Éire) is an island to the north-west of continental Europe. It is the third-largest island in Europe and the twentieth-largest island on Earth. To its east is the island of Great Britain, from which it is separated by the Irish Sea.
Politically, Ireland is divided between the Republic of Ireland, which covers five-sixths of the island, and Northern Ireland, a part of the United Kingdom, which covers the remaining area and is located in the north-east of the island. The population of Ireland is approximately 6.4 million. Just under 4.6 million live in the Republic of Ireland and just over 1.8 million live in Northern Ireland. The 2011 population of the Republic of Ireland was 4,588,252 and that of Northern Ireland in 2011 was 1,810,863.
Republic of Ireland
Edit
The Republic of Ireland (Poblacht na hÉireann) occupies about five-sixths of the island of Ireland.
Northern Ireland
Edit
Northern Ireland (Tuaisceart Éireann) occupies about one-sixths of the island of Ireland and most of the Province of Ulster.
Provinces and Counties
Edit
ProvincesEdit
There are four Provinces of Ireland.
There are 32 counties of Ireland.
Community content is available under
CC-BY-SA
unless otherwise noted.