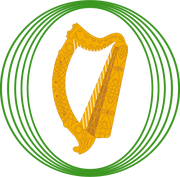 The Oireachtas sometimes referred to as Oireachtas Éireann, is the "national parliament" or legislature of Ireland. The Oireachtas consists of:
The two Houses of the Oireachtas
The Houses of the Oireachtas sit in Leinster House in Dublin, an eighteenth-century ducal palace. The directly elected Dáil is by far the most powerful branch of the Oireachtas.
To become law a bill must first be approved by both the Dáil and in most circumstances the Seanad (although the Dáil can override a Seanad refusal to pass a Bill), and then signed into law by the President. Bills to amend the Constitution must also be approved by the People in a referendum prior to being presented to the President. In most circumstances, the President is in effect obliged to sign all laws approved by the Houses of the Oireachtas, although he or she has the power to refer most bills to the Supreme Court for a ruling on constitutionality. The powers of the Seanad are in effect limited to delay rather than veto. It is the Dáil, therefore, that is the supreme tier of the Irish legislature. The general enacting formula for Acts of the Oireachtas is: "Be it enacted by the Oireachtas as follows:-", for an act with a preamble this enacting formula is, instead, "Be it therefore enacted by the Oireachtas as follows:—".
The Oireachtas has exclusive power to:
Legislate, including a power vested in the Dáil of approving the financial resolutions relevant to the budget.
Create subordinate legislatures.
Propose changes to the constitution (must be initiated in the Dáil), which must then be submitted to a referendum.
Raise military or armed forces.
Allow international agreements to become part of the domestic law of the state.
Pass certain laws having extraterritorial effect (in accordance with the similar practices of other states).
Enact, when it considers a state of emergency to exist, almost any law it deems necessary.
Limitations
Edit
Laws are invalid if, and to the extent that, they contradict the constitution.
In the event of a conflict, EU law also takes precedence over acts of the Oireachtas, as is common throughout the European Union.
It may not retrospectively criminalise acts that were not illegal at the time they were committed.
It may not enact any law providing for the imposition of the death penalty, even during a state of emergency.
It can only legislate for the Republic of Ireland and not for Northern Ireland, or anywhere else.
Community content is available under
CC-BY-SA
unless otherwise noted.